Collaboration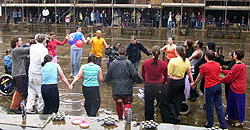 Charan is always keen to take up opportunities to collaborate on projects combining different dance forms and art forms. He recently worked on the 'Partners' project for example, where 3 dancers worked with live music to create a piece based on their experience of teaching dance to people with additional support needs. He collaborated with a poet, an actor and 2 Indian dancers to choreograph and perform in 'Love Among The Ruins' with Elements World Theatre and later that year created a piece with a Chinese dancer and live orchestra. He collaborated with an actor and 3 other dancers in the creation of 'The Bright Eyed Mariner' which toured Scotland – as dancers they had diverse backgrounds in Asian, ballet, physical theatre, contemporary dance.
Charan is currently working on the Tapestry Project, a research collaboration with musicians experienced in working with disabled or traumatised children. "With experience in both traditional and contemporary dance I bring an Asian flavour to new creations, fusing influences eastern and western, ancient and modern. In the spirit of increasing understanding between cultures and nations, I always welcome the opportunity to contribute choreography or performance to collaborative projects.
Case Study: Lifeforce presents 'Reconciliation'

Charan facilitated a weekly creative dance class for people with and without disabilities. Participants explored their own movements and learnt how to combine them with others to create new movements and compositions. Participants built trust, increased self-awareness and developed appreciation of others. No previous experience was necessary – the requirement was just to come with an open heart and a desire to experiment.