Nepalese festival dance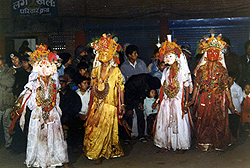 Many of the ethnic groups of Nepal have dances which are traditionally performed for the community at annual festivals. Many are masked dances and are performed uniquely at that annual (or even 12 yearly) event. Some are performed in a trance. There are festivals such as 'Gaijatra' with worship for the souls of those who have recently died, and 'Tihar' with worship for living things such as at the Snake (reptiles), crow (birds), dog (animal), cow (mother) and 'Goberdon pahad' (the mountain of herbs), and souls of family members.
'Dashain' is a festival for the worship of god and goddess and of good overcoming evil. It is also the time for meeting family and friends, and for reconciliation. Many people go on pilgrimage to different places, taking days and days to travel. They sing and dance as they go, both for joy and as devotional offering through the body to the gods and goddesses.