Budhist ritual dance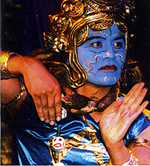 The classical sacred Vajrayana Buddhist meditative Charya dance form expresses the qualities and stories of the gods through dance rich in mudras, gestures and expression. It is passed down through the generations and traditionally performed in secret on behalf of the whole community. Charan dances the classical dances as they would be danced in the courtyard of the 'Bihar' or monastery. As he dances Charan enters a meditative state, becoming aware of and observing the sensations inside his body, and paying attention to the qualities of the god he represents.
If you want to know more about Nepalese Buddhist Ritual Sacred Dance contact DanceNamaste.