About Charan Pradhan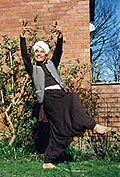 Charan has 40 years of professional dance experience as a performer, teacher and choreographer and a Degree in dance. He works with a range of influences, fusing east and west, ancient and contemporary. He draws upon the rich Nepalese dance culture and western release-based techniques to create his unique style.
Charan grew up in Nepal dancing from an early age. At that time there were no dance schools; dancing was passed on through a respected and accomplished guru, a wise teacher who taught about dance in the context of life in general. Rather than having one life-long guru Charan learnt different dance forms from different gurus. Regardless of his natural gift for dance his family tried to persuade him to get a 'real job'. Despite the discouragement he soon formed Nepal's first dance academy. Using the money earned touring abroad he was able to offer bursaries to keen young dancers who would otherwise not have an opportunity to dance. Many of them he later took on tour with him and some went on to teach dance themselves.
He came to the UK in 1998, intending to gain a qualification in dance notation so that he could record the hundreds of dances of Nepal, many of which are in danger of being lost forever. He soon found out that infact very few people know how to read or write the notation and instead did a degree in Dance Professional Practice. It was while studying that he was introduced to the field of disability dance through Joan Illingworth and Ceceila McFarlane.
From there he has gone on to gain a great deal of experience working in Scotland with children and adults with a range of disabilities and additional support needs. He has particularly valued working closely with colleagues Sheena Bryne and Sue Dodds. He hopes to share this expertise in Nepal, encouraging people with disabilities to express themselves through movement and encouraging the rest of society to begin treating them with love and respect.
Charan lives with his family in Edinburgh, home of the Edinburgh Festival and Edinburgh Fringe Festival. Charan is known for his smile. He is recognized wherever he goes in Edinburgh by his cheery face and yellow headgear. He is friends with people from many countries and all walks of life.
My thanks and gratitude to those who have taught, inspired and encouraged me: Krishna Jung Pandey, Santosh Kumar Rai, Bhairav Bahadur Thapa, Basanta Shrestha, Saptamuni Vajracharya, Rajpal Thapa, Prem Dev Giri, Suresh Mishra, Rajendra Shrestha, Manoj Giri, Michel Brissot, Natya Sargam Dance Academy team, Chanda Karmacharya and all my family.