Choreography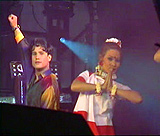 Charan has choreographed for a wide range of pieces such as for the Manchester Himalayan festival, 'Banjankari' for Oldham College, and 'Defying Fate' for 'Harmony' in Glasgow. He has choreographed for events in festival halls, in the street and on television. He choreographed the dance at the opening ceremony of Nepal's first beauty contest and the dance for a pop concert in Hong Kong. Nepal Television contracted Charan to choreograph dance for national events such as the king's coronation, 50th birthday and national anniversaries. In Edinburgh he choreographed a Rap Opera piece preformed by 'Elements World Theatre' in great contrast with a recent dance for a wedding ceremony where the bride, groom and friends performed a Bollywood style piece.
"I bring to my choreography great experience and an openness. I allow my choreography to emerge, to form from the combination of movements, expressions, moods, themes and influences present. Something new always arises, whilst having an essence of my unique style. I enjoy a collaborative fusion of dance styles and art forms. I also work with themes, emotions, stories or just movements for song and instrumentals."
Choreography in class
In Nepalese and Bollywood classes Charan creates pieces with the students as they progress. Over the weeks of teaching he looks for students movements and incorporates them into the evolving piece.
"I use various forms of the dance style along with my own creative work to help students understand and appreciate how to create a dance piece. Through experiencing different dance forms, students become able to choose where to focus in depth in the future. They learn how they can bring their own expression into their choreography."
Case Study: A new interpretation of Charya dance

Traditionally Charya is danced in the courtyard before the temple, surrounded by people from a particular tribe or family, using the space, movement and expression with intimate connection. On the stage however I choreograph for an audience who are to the front and further away. I reinterpret the dance for a new audience, simplifying, clarifying, and adding depth.