Bollywood dance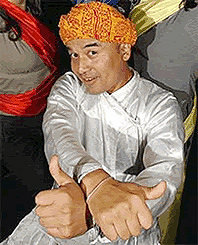 Bollywood dance classes have become very popular in Scotland over recent years. Charan teaches Bollywood dance at a range of occasions from regular classes in university and community halls to one-off workshops at hen nights.
Bollywood reflects an exciting fusion of dance forms to lively and energetic music. Charan says "I call it 'dance with acting' or 'rhythmic movement with expression'". This Bombay Cinema dance captures the essential mix of classic movements and intense expression, while telling a narrative. A great diversity of dance movement is used in Bollywood. Based on the forms of Indian classical and folk dance it is influenced by the world's popular dance styles such as contemporary, Jazz, Egyptian and street dance.
In his classes participants have the opportunity to learn specific dance forms and choreography, but Charan also aims to give a taste of the different dance forms so that participants can understand the influences and create their own movements and dance pieces. The class allows participants to develop different movement styles and bring in their own style – anybody can come along and be creative.
'Charan's Bollywood classes are extremely popular. He encapsulates the essential mix of the classic movements and intense expression' Dana McLeod 'Whether you'd like to join a Bollywood group, create a new group with your friends, or have a Bollywood workshop at your party … Charan is your man!' Jon Brown
If you want to know more about Nepalese Buddhist Ritual Sacred Dance contact DanceNamaste.